It's a Paw Patrol Themed birthday party for our 2 year old. It seems like time flies so fast and when you are busy you won't notice that the day has come to your child's birthday.
Well, I know this is coming pretty much right after Thanksgiving that our youngest will turn 2 in December. And I did prepare this little exclusive birthday party to be held in our residence.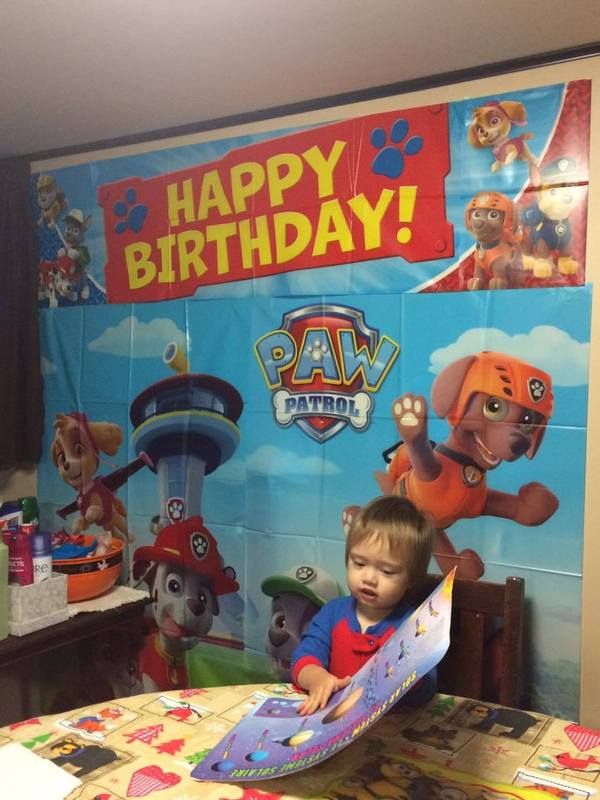 Bought few and reasonable favor goodies as well as the decorations, online and in store. Because I kept some of the streamers, balloons that haven't been used from his older brother's birthday it saves me money to purchase a new set.
The only thing that I was debating to work on is the food to prepare, and the gift that I wanted him to get for his birthday. Having an older brother does help a lot. All the hand me down items from clothes to the toys. Gives us the hardest time to think of what kind of toy we can get our youngest.
he was so happy to see these banner
However, we did figure it out. They have different interests due to their age gap and that helps. So our little one loves the TV show Paw Patrol as he seems to be amused with those dogs. I picked the Paw Patrol Birthday Themed for him, and yes! We got him some Paw Patrol stuffs.
The party is great, better than I expected and all the invited guess that I expected to celebrate with us definitely came.
So many foods and desserts, the kids love the parlor games I had and yes winner earned moolah!! So make sure that they'll be more serious and have fun and join the game when there is.
If only they are older and loves music so I could just order him one of the audio technica mic it would be easier to find a nice gift for him.
Anyways, the party is fun and it's nice to see everyone did have a great time. And to our little one, he does have a merry birthday and a whole lot of pictures to see.