Travelling can be sometimes too risky, especially when you travel often. You don't know when would be the safest place to keep your passport and other cards.
I've remembered watching from the news about this person trying to get your information using a device that is now also modern to hack your cards. It is seems like he was only holding a tablet, and he was just asking some random questions random people. These people has no idea that they're cards are being hacked. Steal their information just by standing there right next to the victim.
Later on, this person [who took the experiment] did hack a person's card right after their small chat. In which, the victims were being informed of what just happened and all of them were shocked.
We need to secure our important properties or we will end up losing them as well as being taken advantage with the people who steals from us.
Today, I have the opportunity to review about the RFID-Blocking Passport Wallet & Neck Pouch. I have to say, while seeing this product on the website makes me want to acquire one.
Soon, we will be travelling and the last thing that I want to have in mind is being hacked by the unknown. I'd like to be more secure and this is just one of the best way to do it.
The product arrived in the mail in great condition. Though the packaging seems to be too big for the product itself, it worked out.
Product Description from Amazon:
·
RFID-Blocking Material: Stay safe from scanners that can steal your credit card info by carrying your valuables in this RFID-protective pouch.
·
3 Roomy Pockets: This Lemur Gear wallet keeps all your documents and travel necessities close at hand and easy to find. Holds cell phones, passports, credit cards, boarding passes and more.
·
Slim and Comfortable: Lanyard design keeps your hands free, plus is thin enough to tuck inside your shirt for extra security.
·
Water-Resistant Nylon: Lightweight material helps prevent water damage to documents, and won't cause neck fatigue or soreness, even after a full day of travel.
·
Clear Front Window: Have your ID card at the ready when you tuck it into the clear front pouch. No more fishing through your pockets or bag at security checks or boarding gates.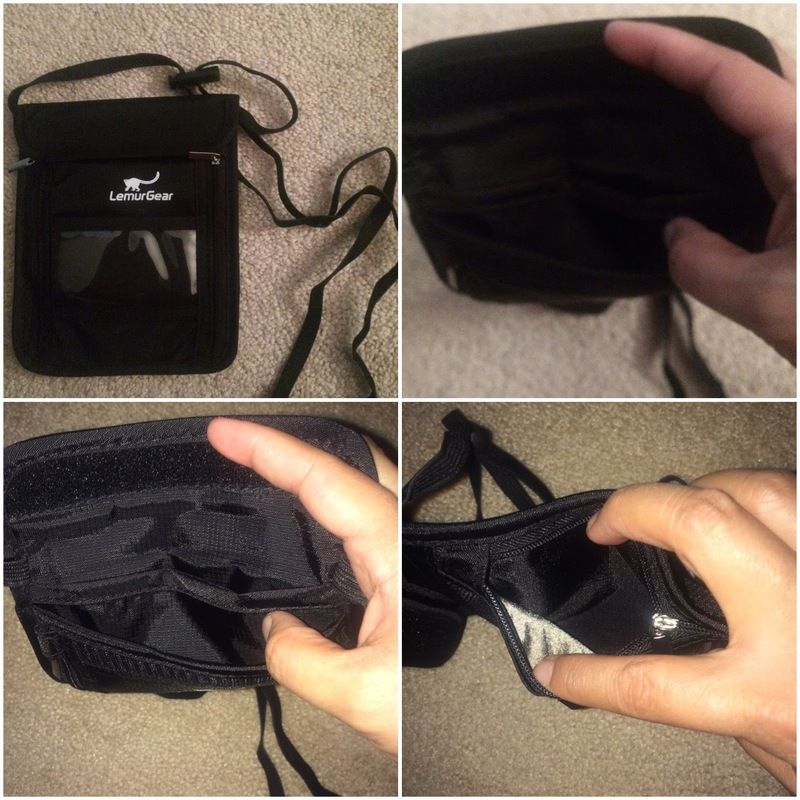 Based on the Seller's description about the product and its purpose is absolutely the same. Very light weight. The strap is also adjustable and thick enough to be wrapped around my neck.
It has 3 pockets that I can use and it is spacious enough not only for just one item but at least 2. Well, that's according to my usage.
I like the color black, to keep away from dirt and the material is is made of as well. I can easily find the passport and my ID especially when I am with my two toddlers.
For the list Price of $34.95, it is now on the Price of $19.94 , which saves you $15.01 (43%) and I would say this one of the best ways to keep our important things safe. I would recommend this product for travelers who seek for a secure way to keep their passport or cards in good hands.