Being a mother of a smart and fun kid we drove ourselves to create something more fun for our children. For instance, we become more creative with their meals and on their lunch boxes or at home, just to show them that we can apply ART in so many ways. We become imaginative in so many ways and use different skills as much as we can. These would encourage them to be inspired of our daily effort and become as ingenious as we are.
I have never experienced these things before when our mother prepares our food. In my presumption it's because she's more concern on feeding and cooking our meals on time, rather than create something as there are 6 of us to take care of. And I love that as well, the craziness during meal time along with my siblings is unforgettable.
Anyways, whenever we go to dine-out our 6 years old always gets enthusiastic whenever he order his own pancake meal, due to the simple yet a bomb technique to show kids eating food can be more fun when there's creativity on it, and so I tried the tricks.
And due to that reason, I make my own version. At first I was laughing out loud of the outcome of my creation. Yet the second time was perfect. Or maybe you will be the judge of what rank/rate should you give me on this. Below are what I made at home: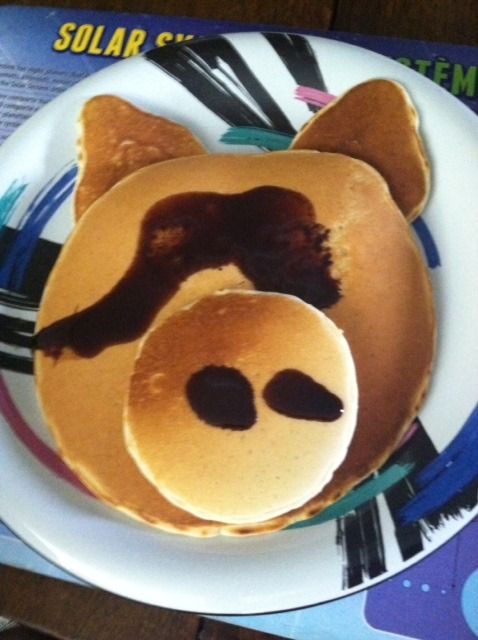 This should be a PIG...lol
This should be Mickey Mouse...doesn't turn out good...hahahaha
At the end of the meal, we make one happy child + one happy tummy = one happier Mama.