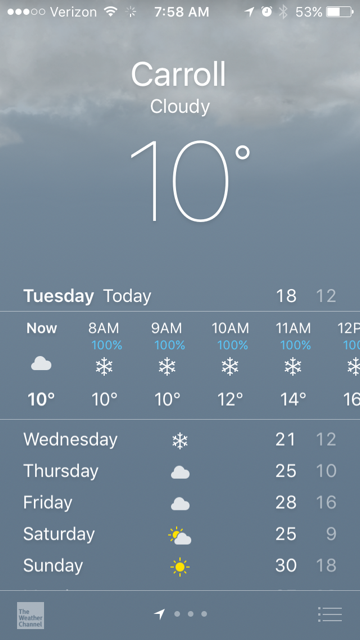 Boy!!! This mother were so happy when I got a phone call from the school around 6:00 o'clock in the morning about the cancellation for today. And glad to answer that because it is indeed a good news. That phone call is one of the happiest early phone calls I've ever received this year. I know, my happiness is too shallow, but getting up early on a very cold day seems to be too impossible. Especially, when you have a young student to send to school.
After the phone call notice, I went back to sleep instead of dragging myself downstairs, helping my sons to get ready and then wait until it's time for us to go outside. I'm very fortunate, to have a very supportive husband to help me out on this simple task daily. Oh Wait!!! I have to clean the car, warm it up so that my boys would not be frozen while waiting for the bus.
Because if it wasn't that, this day could be one of the many cold weather we have outside. I checked my weather app and boy oh boy!!! Temperature hits a teenager range, and that is quite unpleasant. Not only for me but for the bus drivers and those employee who will drive in a snowy day.
Do I sound like I'm complaining? It sounds like I am but I just simply share how happy I am and I'm sure most of the parents that they at least have a snow day [no class] so that they could stay at home with their children.
An extended no class day for my son to be at home.