Liquid chalk marker pens are amazing tools, especially when you like to draw or create something fun on a board or in a glass window. Both ways was not being tried by me since and I'm very ecstatic that I have no excuse this time to try and be creative with something using a colored liquid chalk marker pen.
I have the opportunity to receive a 20-pack 20 color liquid chalk marker pens by LINKYO. And today, the item arrives in the mail via UPS delivery. As checking in the packaging box, I see no signs of damage in shipment that I'm very confident to open the packaging box with enthusiasts.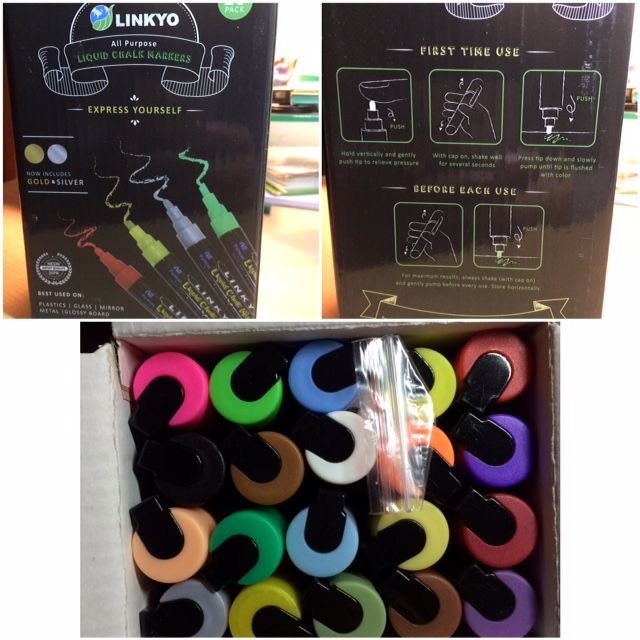 The labeled box has its simple procedure on how you can use the markers, especially for the very first time. Very easy and quick procedure. It comes with 20 different colors including a GOLD and SILVER Tone.
It also comes with 2 extra tips which also has a point and a slant, just in case and using the markers for the very first time is quite fascinating. I did shake, and press and hold until the liquid comes out through the tip.
I like how it comes smoothly after I shake it very well, when using and writing with the pens it doesn't smear and it comes off easily too when you have it in your hands. It also dries fast.
For the price of the List Price of $59.99, and regular Price of $29.99, it now on sale for only $22.9. That's a lot of saving there for $37.04 (62%) just for you to acquire one. You can find the product HERE.
For this I would recommend to get the 20-pack liquid markers, that way you'll have all the colors you need. You can create/write/draw pretty much anything. And the quality of the product, I would say the liquid/ink itself is wonderful.