Having children of your own makes you think of this different alternative methods or procedures in order to live your life along with your precious kids harmoniously. I have been a mother for 6 years now and having 2 handful kids make me think of this awesome way to live my daily life with them comfortably. I've always wanted to find the easiest and quickest way for my children.
Feeding them on time is what I'm cautious all the time. I'm paranoid, cause I knew that kids or infants would give me some kind of signs, like crying or being fuzzy whenever they are hungry. But I am unease that whenever time lapse and we are on the road and I haven't given any good food to my infant.
Feeding using a baby spoon is sometimes messy, especially when you are on a road trip and wish not to stop because you have set where to stop at. It's quite inconvenient. I'm looking for a convenient way to feed my infant and toddler.
Today, I received a reusable food pouch from Baby Go-Green company in exchange of my honest review.
Thankfully, I would be able to test the product if it works for me and if this is what I truly need to save time and eliminates those messy feedings.
The product arrived in the mail via UPS. It is packed with a bubble wrap envelope, I don't see any signs of rip or tear outside and inside the product plastic sealer that I was able to try it right away.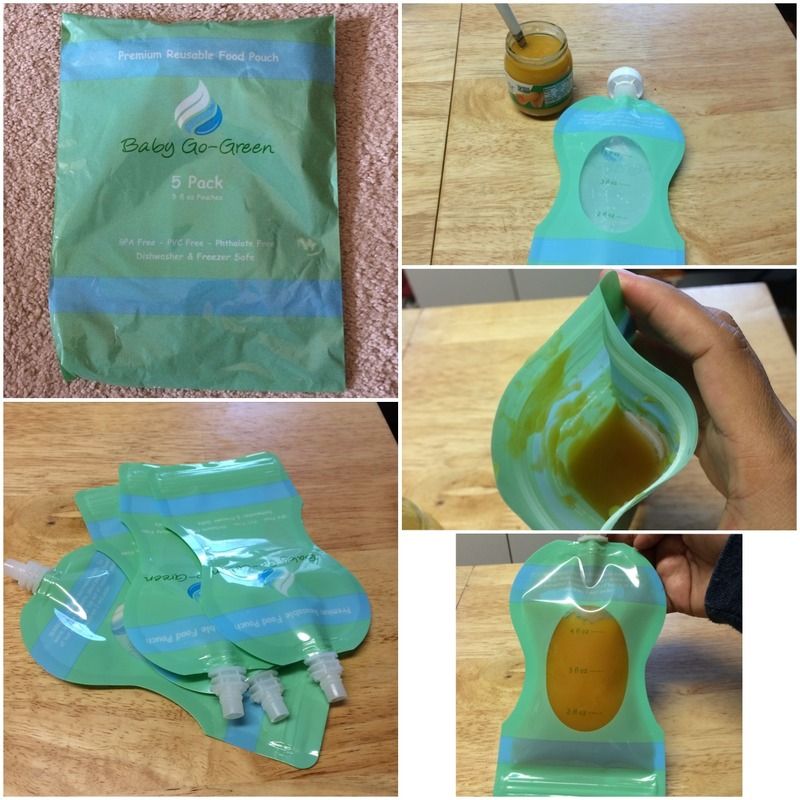 There are 5 packs, the pouches and 5 lids. Very light, very right size because it can hold up to 4 fluid oz. Just the right amount for one baby food jar. I cleaned the pouch, which is easy to do. The bottom part has double sealer. I find it very secure that the liquid food is sealed and would prevent it from leaking.
The photo is from the company, simple instruction on how to use the pouch
I do find it very convenient. Space saver if put it in your purse or your baby bag. Easy to clean, quick dry and very useful especially if you travel a lot. Easy to squeeze and the processed foods comes out easily, when you squeeze the pouch.
For the List Price of $19.99, now you can purchase it for only $11.99 and You Save $8.00 (40%) which is a great deal. You can get your own pouches here.