My son was showing off his new discovered talent to the nurse who visited us today. I never noticed at all that he started to tap on something to play the rhythm of the Jingle Bell song. I was very surprised to see him showing his new skills to the lady.
My son has the beat, he does get the right beat of the song and starts doing it multiple times and in the back of my mind, I was thinking I think it is time to involve our son to a musical instrument.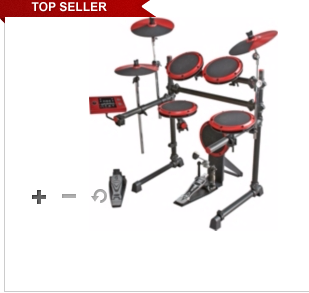 photo not mine
It is quite expensive though, but knowing what could it give to our son would something a money can't buy. I have to think over and over before getting him this one. I have to consider the space where I can put the set at home. Since we don't have a huge house, it would be too crowded if I'll put this in their bedroom.
Whatever my decision would be, someday I'll definitely going to consider getting our son this set.