My son just turned 3 months recently and few more months he will start having baby teeth. Before that happens, there will be signs of drooling and gumming as well as biting or chewing pretty much of anything stage. During my older son's time while he was teething, I'm thankful that he never experience such pains and being so fuzzy all the time. The next thing we knew there were 2 teeth coming in on his front. We can only hope the same thing for our second child, even though each kid acts and experience differently.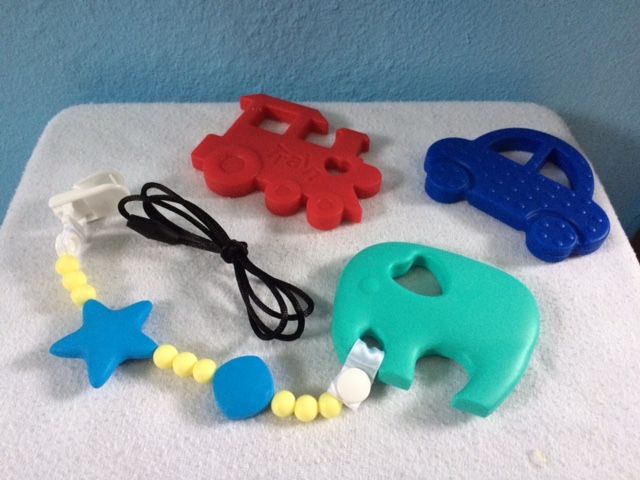 I am thankful that I have the right baby stuffs in hand, ready whenever our second child starts teething. I received 3 Teether Toys from beabies.com to review. The product came in the mail through USPS and the packaging is ideal, I don't see any signs of damage, happy and content that I can review and used the product right away.
The Teether toys were bigger than I expected, I love the 3 different colors as well as 3 different designs it consists. It also came with a very safe and silicone chain that would help hold the Teether or a pacifier on to the baby's clothes. There are train, car and elephant latex, a free of BPA, PVC, Phthalates, Vinyl, Nitrosamines, Rubber, Lead, Cadmium and heavy metals. Tasteless, I can tell cause I have tried it. Odorless cause I also smelled the Teethers.
I followed the instructions before I first use the Teethers. I washed it in hot water, even boiled the water to ensure that it is safe and clean before I hand it into our son. It is also a dishwasher and freezer safe (top rack only, as recommended).
Overall, I would say that the 3 Teether Toys are safe to use for your infant as long as you have followed the care instructions and cautions. Parents are advised to supervise when this product is in use for our infant's security.
This is NOT a sponsored post, I did not receive any financial amount. I received the products for free in exchange of my honesty review. The outlook I expressed is 100% exclusively mine
.