An excellent Holiday Gift Guide for kids this upcoming occasion is fairly cool, they will have the enjoyment and the most important is they also become skilled in the type of toys, tool or devices they are playing.
We don't mind getting our son recent machinery as long as we set boundaries on it and he will gain knowledge about academics or basic educations as it is for his own good. That is why, I'm very much picky when getting him a new diversion as I have to scrutinize about what could benefit him if he ever gets to play this merchandise.
Lately he has been more into planets and the Solar system, Alphabets, reading and more. He knows some things other people, including myself forget and that's a fine thing to begin with. A fundamental information will lead him to develop into more curious about Space, Solar system or certain things. It all begun when I tell him a story about God's Creation during bedtime. He must've absorbed what I told him and the next day, he went ahead and explore about the earth, which leads to the other planets and now the Solar System.
Moreover, introducing new things and educational knowledge to our kids is definitely important. It is up to them if whether they will continue to be taught and determine more about it or find a diverse one that would interest them. And I am lucky enough to have the opportunity to show our son the amazing history of Dinosaurs.
Yes! I have the break to assess about
Dinosaur T-Rex Room Guard with Motion Sensor
, value of $49.99. Ecstatic to heed about the news and waited for the product to be in the mail. Unfortunately, due to the bad weather we had a few weeks ago here in Western New York, the shipment and delivery of the product was delayed. I'm pleased about the system, as they informed me about the changes and the delay to ensure that I won't be perplexed about where the item went. So, I waited until the weather permits the carrier to pursue and deliver it in our post office.
The packaging is just right. The merchandise is in a big box to ensure the safety of the T-Rex as well as some of its accessories. I don't see any damage to the item and that's a good thing. When I opened the box you can see how secure the stuff in as it is not loose.
There is some written information outside the box of what to expect with the item. It came with three projectors discs with 24 dinosaurs images in total, a very functional instruction manual as well as a cute sticker with a "no dinosaur" signs. You need to use at least 3 AA batteries which are not included in the package.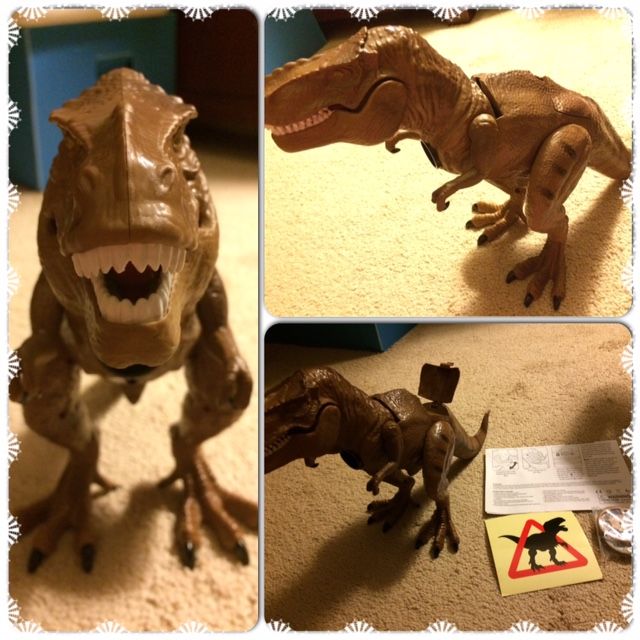 To turn it on, there is an orange button below the T-Rex tail where you can switch it on and off. At the back of the next of the dinosaurs is where you can place the disc and turn the discs to select the image you want to show to your kid. Blurry? Don't worry, you'll be able to focus the image by simply and gently move the right arm up and down. Don't forget about the sensor, its fun and amazing cause it Roars!!!
Honestly, the product can be operated quickly and very easily. Even an 8 year old can figure how the product will work. I will definitely recommend this product to you if you need a good holiday gift guide for your children, family and friend's kids.
I received one or more of the products mentioned above for free using Tomoson.com. Regardless, I only recommend products or services I use personally and believe will be good for my readers.