My family and I love to travel, if given the chance to visit a different place we always take advantage to see the sights of what the area can offer and promote us. It's tireful after yet endearing to
pack things in our luggages and to guarantee we have everything, I even make a list of all the things needed to trip. I don't want to miss out anything at home.
Mostly, kids also have their own things to bring too, and I would like to separate it as much as possible, that way when they needed it during the travel it'll be easier for me to get them without opening the whole luggage I have already packed. I've been searching for a nice, sturdy and yet delightful luggage that is projected for kids.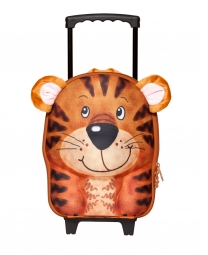 Okiedog is been there for many years now, and never fails to electrify me about how resilient and adorable their products are. Whether if it's for your child or for the mother's use and even infant accessories they carry it. They have those fashionable style that would adore every person who sees their product, trust me, I received so many compliments about the previous product review I worked with them.
This time, I received their endearing WildpackRolling Luggage - Tiger, with a value of $34.95 in the mail via UPS. The packaging is indeed magnificent, I am content to know that the products inside are safe and that is one most thing I'm looking forward during shipment.
When I have touched the Wildpack Rolling Luggage I honestly felt that this is something a mother should get for their kids. Sturdy, hard to protect your kid's stuff inside, I love the roller for them to roll the luggage themselves also the charming character that I picked for my son. It comes with 6 different animal characters of your choice.