I've always loved Tatutina the minute I work with the company for the very first time. If you don't remember it, I received and reviewed their amazing
Wooden Letters
which can be found on the highlighted link, where now I hanged in our son's bedroom. And when I say it's remarkable product, you should read my review about the product to learn more.
And today, I am very fortunate to work with this generous company once again. Thrilled to check out their kid's tees and received a pair for our little one. I choose the nice
Bold Black Dog T-Shirt - size 5T
, value of $ 18.00 for my son. Knowing him since the day I pushed him out, he adores the color green and I do find that this shirt color would indeed enlighten him more about his favorite color. Of course, he adores dogs, in my opinion, he will love this shirt.
I was really excited to receive the product in the mail and yes, it did come faster than I expected. All my expectations about my son's opinion indeed are true, he loves the shirt and the medal that comes with it. The Tatutees is wonderful the minute I opened and touched it, it has a soft fabric and I love the vivid print of the black dog on it. The quality material they used is 100% Cotton, indeed 100% Kid, it has a very nice Bright green shirt with black & white Ruffin Ready graphics, a Super-soft, pure cotton design, I'm also glad to know that the Tatutees is a Machine Washable/Dryer Safe, and comes in sizes: 2T, 4T, and 5/6.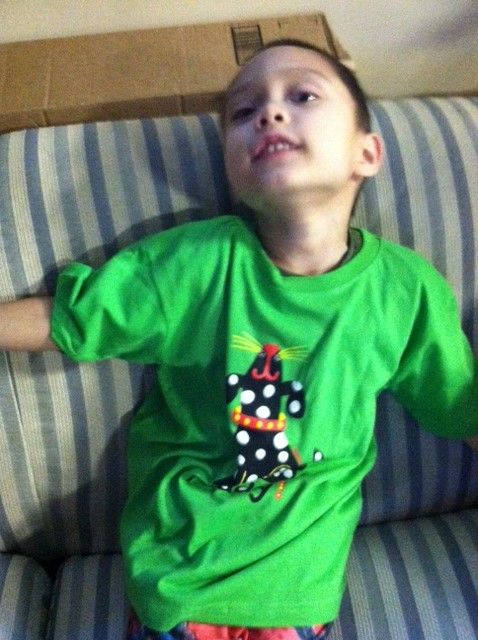 I also love the Medal that comes with the shirt, as well as my 4-years old son. He wants to wear it all the time now, and you can also write down their name on the back of the medal which matches the Tatutee.
Liked the product? You may purchase it @ www.tatutina.com, while you're there, don't forget to check out the different awesome items they have online.
Now it's your chance to be able to acquire one of their amazing Tatutee for your child. I am hosting a giveaway sponsored by www.tatutina.com. This is only for US Residents and 18+ years old.
This is NOT a sponsored post. I received the products for free in exchange of my honesty review. The outlook I expressed is 100% exclusively mine
.