I
don't
remember the last time I went to see a Circus when I was little. Because
of
that, I wished to see one again and this time, it would be a little bit
different
since I will be with my own family, my spouse, and son.
It

is

also a great way for our son to experience and remember the very first time

he

went to see a Circus. It's not a huge Circus, thus it's more for kids to have

fun

.
They

have

few animal rides and a little bit of snack vendor outside before the show begins. I figured out it's not something as daring as I have seen on the television. Nevertheless,

it's

for the sake of fun, family bonding and kid's entertainment.
We

went

on the last day of the Circus' show, and glad we did partake of this kind

of

activity. I took some pictures of the stunts and I am right, mostly were for

kid's

amusement. I am not sure if our son did have a great time as when I

observed

him, he was just watching the activity. No giggling, no laughter, he just

sits

there and watched. Sometimes bores him as he pays more attention to the

souvenirs

rather than the show.
It

took

at least 2 hours for the whole show, with a $15.00 adult's entrance fee I

say

, it's just quite right. YES! That's a lot! Even spouse and I were shocked by

the

price; although kids are still free, but it is just way too much. We were

saying

we got robbed there.
Moreover,

when

we learned that they are 1 of the 9 circus who only travels within the USA

to

perform. We felt a little bit sad for there were not many of them anymore. I

was

a little bit sad since I want this kind of event to go on until my children's

children

and their children would see and experience what Circus would be like.
Below

are

some of the photos I took during the Circus event.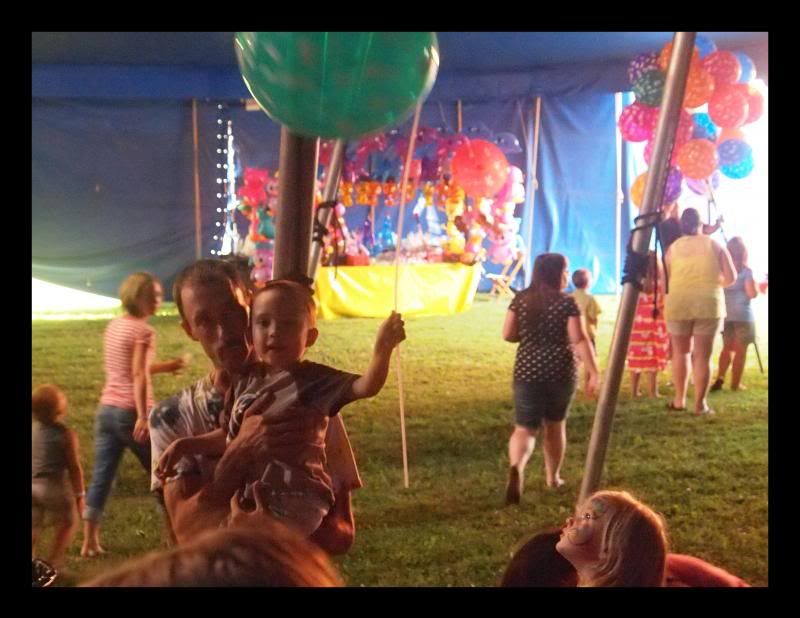 Break... KK got a green balloon
Second Show...and Finale...