I like to get one of those nice wall decals for our upstairs, as we just recently move this year there were walls that don't have any pictures or designs installed yet. Consequently, I think putting nice wall decals is what I like to have. I received an email about working on an evaluation on one of Decaleco's Wall designs. I'm so happy for I know it could save me some money at the same time, I have the chance to work with them about their product before I could purchase for more.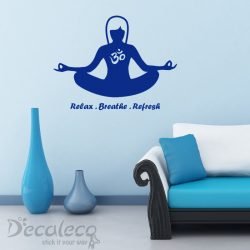 I choose
Yoga – Meditation
for I need the relaxation and peace as well as a good vibe upstairs. Since we have a blue paint, I think the Yoga decal would perfectly fit in the room.
It will give me more power; I will feel more relaxed while I'm working.
My Review:
·
Fast shipping and free shipping within US
·
Love the high quality of the product, the color blue is compact
·
The design is very firm which I like it more
·
Simple to install and came with an instruction on how to install the decal.
If you want to see more of the designs, please visit their website at
http://www.decaleco.com
also follow them on
Facebook
page and
Twitter
. Get connected with them and be the first to know about the new designs in the company.
It's time for the giveaway:
I am hosting a giveaway and I will be combining the same giveaway to my other two sites. I will be picking 3 lucky winners to receive a $25 eGift card from Decaleco. Giveaway starts on July 7, 2013, 12AM EST and ends on July 21, 2013, 12AM EST. Opens to Canada Residents and US.
A disclaimer: This is not a sponsored post. I received the item for free in exchange of my honesty review. The outlook I expressed is 100% exclusively mine.