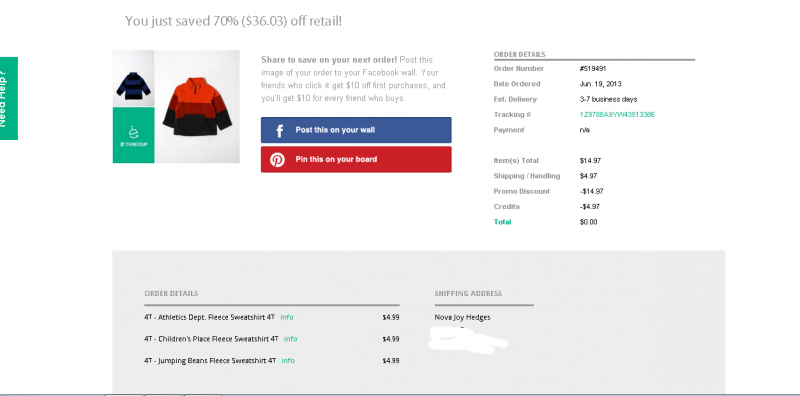 I am happy when I read an FB status confirming about
getting
the clothes they desired for their kids at
Thredup.com
just by spending $3.69
for
the shipping. I was intrigued about that status and so I went to her page
and
read the information. It's nice to know that Thredup.com gives a $15 credit
for
the month of June. I knew I'd seen the ads in my email; however, I just
neglected
the email, never even opened it, and trashed it.
I made the biggest error of throwing that email away without
even
knowing, what it is about. However, I'm still grateful for I had given the
chance
to enjoy the credit.
I needed a hoodie for my 3 years old son due to the
constant
raining and colder weather, which supposed to be summer by the way. Anyways, I went online to see if they have fleece jackets, less hoodie and don't like
how
expensive it's comparable to the jacket. So I end up getting 3 pairs of
different
jacket fleece design used the $15 Credit and to my surprised I had a $5 coupon that wasn't being used for a very long time.
I guess it's a credit when I signed up. I was blissful, thinking I'll only be paying shipping, thus it was more than that. I obtain a branded
name
fleece jacket without spending anything on it. I am very pleased to share
this
with you. Therefore, it's your turn to be at an advantage like me.
Please visit this website and register; you'll instantly
earn
$10.00 credit towards your purchase. That credit never goes away, it'll
magically
appear in your checkout. This is real! Let's take advantage of the
credits
they gave.
The online store carries all sorts of apparels, from Woman to man, Adult to infants oh they have more accessories too that you might
want
to check out.